Hook Effect Anyone??? 🤔
Is anyone else 6+ weeks and still randomly testing??? If so has anyone's lines started to fade?? 😳 I think I'm already experiencing what is known as the "hook effect" where your levels get so high it floods/confuses the test and the lines get lighter. I didn't think it happened till later but my tests have been so freaking dark all this this time maybe my levels were high to begin with. Anyone experience this???
I got worried cause I did my random weekly test yesterday but it was SMU. I didn't think it would matter but my lines were lighter on 1 brand of cheapies. So today I tried again. Only I did 2 cups. 100% FMU. And 50/50 FMU and water. Low and behold the diluted cup produced darker lines!!!!!  Crazy!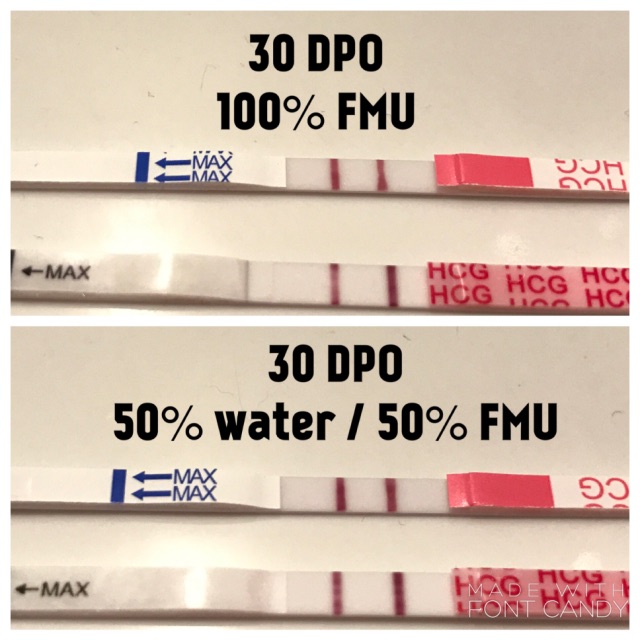 Then I was kinda concerned my FRER got lighter in the FMU cup so I tried my Clearblue in the 50/50 cup. It's just as dark as a week ago if not darker. And it was diluted this time!!!  I guess cause the FRER is so much more sensitive it's flooding the test. 
Look at that crazy difference of dark lines on the same day 😳
I really think I'm done testing now cause this is too nerve wracking. Haha. My doctors appt is Friday. I think I'll feel better once I go 👍🏼 just wondered if anyone else's tests were doing this yet?  My tests have been SO dark for the past 2 weeks maybe they're just maxed out now 🤔
My husbands line "you're pregnant stop testing!!!!!!" 😂