Our girl Superhero Nursery
My husband and I had a lot of fun working on our daughters nursery.
My grandpa build this bookcase/toy box when I was three. This summer my mom and I sanded it down and painted it for the nursery.
The picture is digital art made by my husband and I. He drew the it on his iPad using a stylus and procreate and then sent me pieces as it was completed. I compiled it in photoshop and then coloured it. The day we found out we were having a girl my husband start cutting characters out to make room for more female superheroes.
The Spider-Man piggy bank I painted at a clay shop with some girlfriends. And the flowers on the bottom shelf are actually a bouquet made of comic books I made for my sisters wedding last year.
The shelves contain "rock-candy" figures of female superheroes. They'll eventually be toys, but for now they are on display.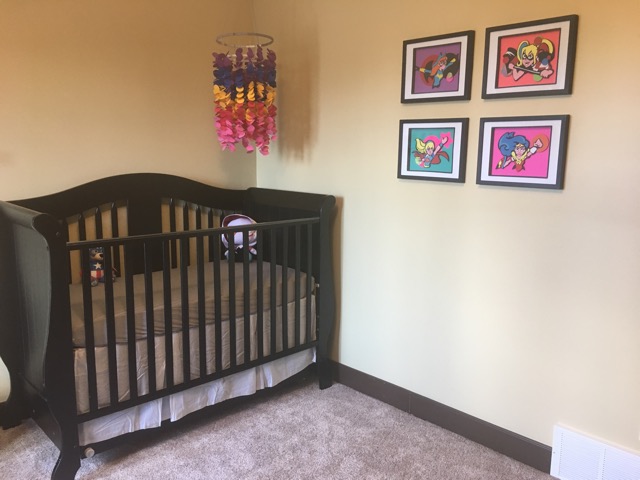 This gorgeous crib is a hand-me-down from a friend. I can't believe what good shape it is in considering her two daughters used it.
I made the mobile out of paper circles. It was a pin I found on Pinterest and I'm very happy with how it turned out.
The four pictures on the wall are made by a guy my husband works with. He is a graphic designer and in his spare time he likes to create these paper cut out 3D pictures from images he finds on the internet.
We are very happy with how the nursery turned out. It isn't over the top superhero and it still feels like a girls room. Now we just have 8 days until my due date.