Let's Talk Fertility (Santa Monica)
Fertility treatments can be complicated. And it can be hard to tell truth from fiction. Take control and get the facts!
Join Glow in Santa Monica on Tuesday, April 10 at 6:30 PM.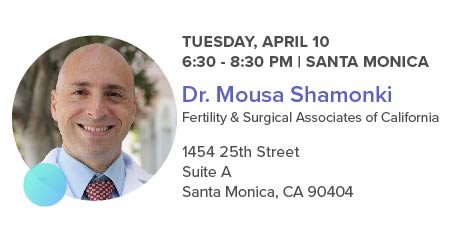 Come hear Los Angeles's own Dr. Mousa Shamonki answer all your questions about fertility testing and treatment paths. You'll also learn about the invaluable support and huge savings available through the <a href="https://glowing.com/glow-fertility-program">Glow Fertility Program</a>.
This event is free and open to the public with light refreshments.
Partners and friends are welcome, but space is limited for this intimate event, so register today!