*TMI* I let my boyfriend put a power tool battery in my vag...
So... yeah... um... it kinda just happend. He was working on house stuff with power tools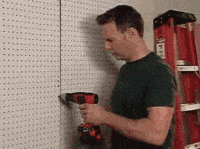 and he said do we have any vinagar and I said what kind of vinagar and he said any kind of vinagar and I said vagina vinagar and then the comes over to me and take my shorts off and then I said it's not in there right now. And he starts rubbing my clit And fingering me. and the next thing I know I have a power tool batter inside of me. He takes it out and continues to finger me as he takes his pants off. OMG we had the best sex. it was great. I knew power tools were sexy but... damn.