He said what?! Updated!!!
So we aren't really preventing pregnancy.
Yesterday I went and bought a nursery room set to refurbish. I am going to paint it all and use each piece for different things. I got the changing table, dresser, and crib w/mattress for $70! For now I'm going to work on the crib and use it as a dog bed for our 3 dogs at night so they don't sleep in our bed anymore. A California king only goes so far with a boyfriend who's 6'3" and 3 dogs 😂😩
We get all of it upstairs into my project room and he says, "well now we are super prepared when we get pregnant." I looked at him like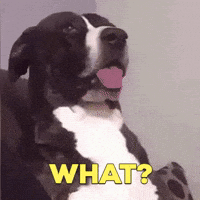 He's been the one who's like oh we can't have a kid but it wouldn't be the worst blah blah blah because he is very on the fence about it. He's got mad baby fever but refuses to jump on the boat so we agreed to just go with the flow.
I think he might be joining me on the baby train soon enough lol. He wasn't even mad when I told him I had some other things up in the closet stored away for when we do have a little one.
Just had to share cause he keeps surprising me with what he says and does when he's the one who keeps reminding me that we don't exactly need a baby right now.
Anyone else's men on the fence about the baby thing? Why are they on the fence? Are they just anxious and don't want to admit it or is there a legit reason for them to be iffy?
Update: so y'all my sister in law had her baby a week + 1 day ago. And OMG she brought full on baby fever with her. He was having to resist holding her longer because everyone wanted a turn.
This was at the hospital right after she was born. I think his face says it all. He's completely in love with our niece. (This was the first time he's held a baby)
This was on Saturday and he definitely is much more comfortable holding her.
Side note: yes she was a huge baby and it was a natural birth lol that's the most often asked questions when I show pics 😂😂