Pink Stork is THE BEST COMPANY
I have to vouch and spread the word here.
So I've been TTC for a while now, got pregnant- had a miscarriage at 5 weeks. And with such severe endometriosis, trying to get pregnant again is rough. So one day I stumbled upon Pink Stork fertility tea. I figured I'd give it a go!
I love the tea and was browsing on their website, reading the story behind the company. And it touched me, genuinely! So I decided to message the company and I said "You must get messages like this all the time. But thank you for giving me so much hope. I have endometriosis and it's a COMPLETE nightmare, and trying to get pregnant with it is even worse. I've been drinking the fertility tea and looking at more products to bring in so we can finally get our rainbow baby. My fiancé and I found out we were expecting at 5 weeks, after trying for a year, and then a week later lost the baby. Looking at Pink Stork products just gives me some hope that soon, I'll have a healthy, full term pregnancy. I hope this brand grows and hits global because you deserve that. Thank you 💕💕"
The owner Amy, herself, responded! She asked for my address and insisted on sending a package. And look what she sent 😭😭😭😭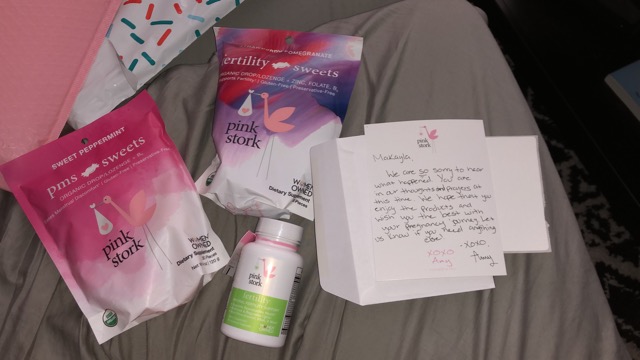 Please go flood these AMAZING people with sales because not only are the products amazing, they genuinely care for the woman YOU are