This is so hard..but I know I'll be ok.
I lost my baby when it was the size of a lady bug in my belly, I found out at my first ultrasound it's heart was not beating , and it was no longer growing. Measuring 6 weeks and 2 days , my angel left me.
Now mommy has her rainbow baby. 12 weeks 3 days , feeling so blessed and so happy every day, except the longing feeling that you should be almost 3 months old , it hurts.
When I can't wait to hold this baby, I realize I should already be holding a baby.
But that doesn't make my rainbow any less loved ❤️ both are loved more than anything in this world , and I know you're watching over me. You send me signs all the time. Not only that, mommy has you by her heart forever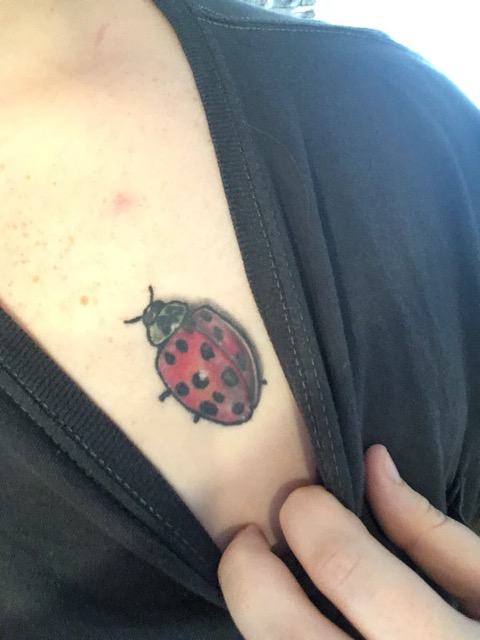 A little backstory on my Tattoo, when we found out my baby left us , we saw it was the size of a lady bug , and that night a lady bug was in our house , im the type of person who believes in signs. And signs from the universe. I sat and watched that ladybug for hours. I took a picture of it , and my tattoo artist did a portrait of it
Losing a baby was the hardest thing I've ever done. The heart ache , the D&C and bleeding for 47 days straight with unexplainable pain , it was so hard. But when I saw that positive my heart felt just a little more whole than before. However there will always be a piece of my heart missing. I believe , that my rainbow baby is the same soul as my last though. Some people think that's crazy but I don't care. I'm a proud mommy to a lady bug in heaven , and a rainbow still growing in my belly. 🐞💖🌈
I'm sorry ladies I just had a lot on my mind and needed to vent it out.
Mommies and rainbow mommies , we are so special. And to all the ladies TTC I wish you the best of luck and hope you very soon see your BFP!!