My grandma died two years ago but left my son a blanket...
I'm crying as I write this. But I really wanted to share. My grandma died two years ago. Some of the most things I was upset about was that my grandmother would not meet my children (I hadn't had any yet) and they would not get one of her homemade blankets. She made blankets for everyones baby and we all had one growing up.
Before she died she gave my oldest sister (who had already had children) two blankets that she had made. When she asked who they were for, she told her she would know when the time came.
Fast forward to today, I'm pregnant with my first baby, a boy. My sister asked me the other day what I'm doing his room as and I said I'm not sure, but I'm doing it all blue and grey. She said she almost fainted in the store and had to leave! My grandma had given her a blue and grey blanket.
My sister generated this letter herself. I cried in front of everyone like a baby.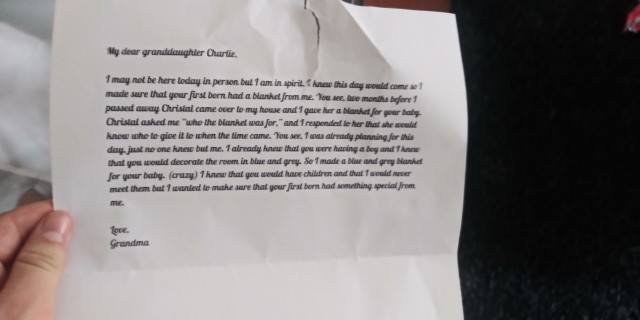 Here's the blanket
And heres my son's room. Its messy from the baby shower yesterday but everything is blue and grey... And I have a lot more to do.