Ovulation confirmation?
So for those of you who don't know I have a MMC (blighted ovum) diagnosed at 02/20 and a d&e on 02/21. As of 03/09 I no longer had any HCG left in my system.
03/19 I got my first positive opk, with a peak on 03/20, and another positive on 03/21.
Hubs and I baby danced all three of those days.
All my charts are stating I'm late for my period due to this being the cycle created from the bleeding after the miscarriage. So they haven't put any information tjay can help Me. So I'm going off what I've learned and what my friend has been telling me (including bbt as this is my first month doing bbt).
My chart shows a dip on my first positive and then 3 increases after. My question is did i ovulate? My OPK's are now coming in negative.
My tests and chart are below.
What are your thoughts?
My cervical position was also high, soft and open on both the 19th and 20th and started to go down more on the 21st. Today it's medium, firm and closed.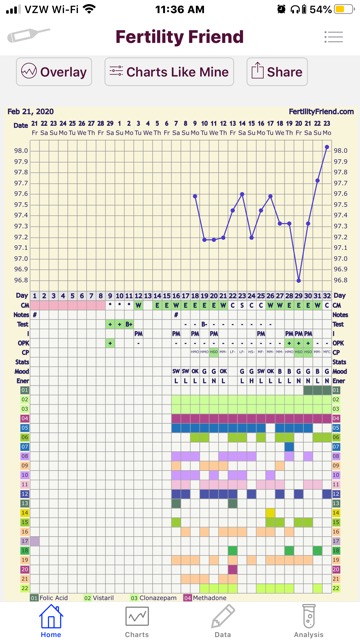 Here is my FF bbt Chart with all its information?
Here's my Premom OPK's:
Please give me your thoughts. Praying that i ovulated. That would make me 2dpo today, and 12dpo on my birthday with my TWW over on the day my mom passed away.
We've been praying hard for a 2020 baby after the loss.
Thanks glow ladies!