My happy ending TTC
When I was 19 I met the most amazing man. He was 31. A mutual friend of who we hung out with. We bonded fast and just knew we were meant for one another! Most of our friends didn't approve of us because of our age but his family was more than accepting.
When I turned 20 we had a chemical pregnancy and thought we give actual trying to convince a try. Let me tell y'all I was obsessed! I was obsessed with this love I had found and what we could build with it. He had two sons already from a previous marriage and I was ready to be every bodies mom 😂 I had a lot of love to give it felt like. Long story short we were very unsuccessful for a year. I had finally made up my mind I didn't want a child of my own because I can love what God has provided me. He gave me a whole family that I never thought I'd have. I can sleep in, I can do my thing, I can go to work, and just love what I have. Content! That was November of 2020. December 1st I'm sitting on the couch and I could smell our trash like my head was in the can😶 my boobs had been sore where they never were previously. It was weird it was like in an instant all these things just ran through my head and my heart stopped while my brain said "you're probably pregnant this time." That night I snuck to the bathroom to test.
Oh boy, there's a faint line
I felt sick to my stomach. Everything I'd wanted so bad it's forming in front of my eyes and now it's a nightmare. How could I be so scared to tell the man I love this amazing thing we've wanted is looking quite possible? How could I be so upset with this result? Because I had become content. Comfortable. Sure of my decision. It was like eating cookies, going to drink milk but it was tomato juice. I waited 3 days before I went to the store to buy a first response and test again.
Here was my verification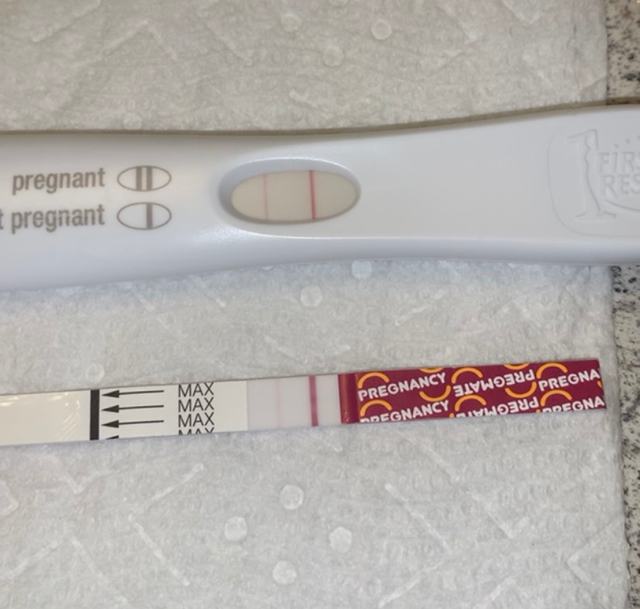 Just like that. I had to be brave, I had to undo my recent thinking and find all the reasons I had before to love another soul. To protect, care for, and love like I never have before. I had to tell my partner in life it's time.
I remember being terrified. Rightfully I showed him my tests he cried and they weren't tears of joy. He was upset genuinely. He told me he had been questioning our relationship for 3 months prior and he didn't want this kid. My mind spun. More than spun. 3 months ago he proposed. He's far from unfaithful. He's a veteran, he's an amazing partner, he's an even better father. It made no sense. He told me he didn't want to leave he wanted to make us possible and to be patient. I was. I'm glad I was. What I couldn't make sense of at the time was he has ptsd. This causes his emotions to be wild, confusing, and sometimes uncontrollable for him. 9 times out of 10 he keeps these episodes in his head. The military does not teach you to talk about it. You come back home and learn emotions all over again basically. So he learns I'm pregnant. He had just proposed to me the first women since his ex wife when he was 18 entering the military. She was horrible to him. He was scared already to make that leap. She took his kids numerous times and didn't tell him where they were. He's felt many forms of loss before. Now he knows he has someone he loves, life is good, he's comfortable, and here comes a baby! I was scared too!
We go to our first appointment at 9 weeks. We have a healthy strong heart beat. At that moment I swear I could hear his over our babies😂 his eyes looked curious. He body looked eager. His smile spoke volumes. At that moment I knew everything would be okay.i
Our baby would grow, he would obtain full custody of his sons, our happiness was endless.
It came time for our gender reveal to which we were NERVOUS! No girl has been born in his family in 56 years!!!! What will you be our sweet baby??
We were over the moon! I was going to be a boy mom through and through lol. We new we wanted to name him after his late great grandpa. Jack, Jack didn't have a middle name so we found one that made sense. Wyatt. In terms of Jack (God is gracious) Wyatt (Little warrior).
He grew and grew!
I would develop preeclampsia and have to have weekly visits to the doctor. My partner never missed one visit. We went all as a family more and more eager each time
We got scheduled to be induced. My birthday is August 5th and my partners oldest sons birthday is August 16th. Baby Jack was set to begging his arrival August 12th. When the hospital called and said it's time words can not describe the joy we felt. Oh the rush. We were so ready!
My water was broke and the fun began!
When my water was broke I gushed. Every time I moved I gushed. 🥴 it was not the most enjoyable part of that noon. Then the contraction hit! I was good up until 6 cm. I was in PPPAAAIIINNNN. For some reason I thought my iv bag had to be empty before I could get my epidural. The nurse came back in and I was in tears. She said "I thought you might be ready for the medicine man soon" 😂 yes ma'am yes please!!!! My partner the whole time is doing whatever he can to help me never once sitting down.
Epidural: interesting. I went from hiding my underwear at appointments to letting my gown fall clear off my body trying to sit up during contractions that had freaking after shocks just to get to enjoying labor! Wild! The epidural was worse in my head. I don't like needles but I didn't like contractions more. My partner held my hand, I felt a shock in my leg, 5 minutes later I was feeling better. I had to be put at an upside down angle with my feet on a workout ball shortly after because my heart rate slowed a bit. But we were okay!
11 hours later after my partner finally got a break (I told him to relax I'm okay) from helping me AND the nurses we were just listening to Jacks heartbeat. Mines slowed then his SLOWED. The nurse came in checked me and said I was at 8 cm. If I didn't progress to 10 in the next hour I would need a c section because our heart beats were too low. She called the doctor and the doctor said to put an iv up yonder to put fluid back because I had lost too much when my water was broke. This became a blur. From smooth to what the world. An hour later the doctor accompanied us. He checks me and said I need to push. When I tell you the room flooded in insanity oh my. The nurse said "she's only at 9 cm"??? The doctor who we absolutely loved said again "she needs to push". 👀👀👀 I remember pushing as hard as I could, I remember my partner holding my hand, I remember the doctor looking very serious and telling my partner "its time for you to count I need you to count for me buddy". I looked up to see the doctor extremely focused still quiet. I was scared. Everything was just okay. Why am I pushing at 9cm? I just listened to my partners voice and kept my eyes closed. Finally the doctor said "one more push one more big push honey he's almost here"! We you got it doc! Just kidding two more pushes after 30, minutes of pushing 12 hours of labor, our sweet, healthy, 6.9lb baby boy, who was 19 inches long, was born at 11:32 p.m August 12th.
This was officially my happiest moment. August 12th at 11:32 p.m 2021 my prayer was answered. We truly don't remember where the time went from 11:32 to 1:37 because it seemed so fast. Everything happened so fast. My partner told me he was scared mindless at one point because my heart rate was in the 40s. I wonder to this day if that was when I just closed my eyes and then our son was here. I don't know. All I know is with a lot of prayers, a lot of patience, and a whole lot of love. Everything ended up being okay.
I hope my long story is encouraging to any women who is struggling. I hope it matters to you what you want. What you need. What you know you can achieve. I hope you get everything you beautiful ladies ever dreamed of. Our son will be one in two months and he's the happiest little guy. Our family is complete. It finally feels right💙💙💙