What is Glow First™?
Infertility affects many couples and medical treatment can quickly become a financial drain. By participating in Glow First, couples who have been trying to get pregnant for 10 months will have the financial help they need to seek answers.
How does it work?
Glow First is a not-for-profit program that helps make treatment affordable by letting you "pool" your risk with a large group of healthy couples. Make a small investment in your future family, with big rewards. Like so: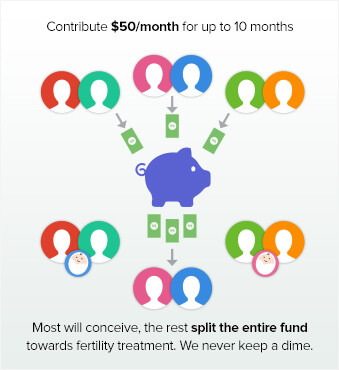 What you MUST KNOW before you apply
• Glow First is a not-for-profit program for couples who just started to embark on their conception journey. For some, time is of the essence and we recommend those couples to seek treatment right away instead of waiting ten months.

• When you get pregnant, your contributions stop. The money you have contributed to that point, will be used to help other couples get pregnant

• You must remain an active user of our daily log for all 10 months, or until you get pregnant

• After 11 months, Glow First will pay an accredited infertility clinic (check list) of your choice when you submit proof of your medical costs

• The Glow First fund is yours. We will never take a cut of your money. Every penny coming in will eventually be distributed out again to couples seeking help for infertility

• Therefore, there are no refunds for contributions
How to apply?
You may only apply within our app. Download Glow from the App Store or Google Play today! Once you're signed up, go to Glow First and click Apply!