Birth story—2 years later!
It's been 2 years now and our second is due soon, so I figure time to post.
At 37 weeks, my son had been breech and I had done EVERYTHING to try to get him to turn (crawling around on all fours, acupuncture, handstands in the swimming pool…). Finally at 37+3, they sent me in for an ECV, where a doctor turns the baby manually (from the outside). That seemed to have worked, and they asked me to come back 3 days later for a sonogram to make sure he was still head-down.
So that Friday I told my boss I'd be in by noon and went in for a 10 AM sono. The ultrasound tech took a longer time than usual and when she came back it was with a doctor I'd never seen before. He said "your baby hasn't grown AT ALL since the last sonogram so we're going to induce you." I was like, "OK, when?" and he goes "Pretty much now." AHHHHH!!!
First they sent me to be monitored, after about an hour there with the nurse giving me M&Ms; to try to make the baby move more, they decided that there really was no way I was leaving, they were going to induce me. I was kind of close to panic. The nurse told me to go get a sandwich or something since later I wouldn't have a chance. THANK YOU to that nurse.
It was the Friday before Memorial Day weekend, my parents had left to go out of town on vacation, my husband was at a film shoot, all I had was my briefcase with my computer in it. I called them all, my parents turned around on the highway, my husband called his replacement (he had just trained him the night before to use his equipment), and then I emailed the doula who had taught our childbirth classes to tell her I was going to be induced and she called me and spent an hour on the phone to tell me more about inductions and what to expect. SO helpful.
Meanwhile my parents picked up my husband at the film shoot and they all waited for his replacement to arrive. This is Memorial Day Friday in Midtown Manhattan so they all spent HOURS stuck in traffic. Then my mom and husband went to our apartment to pack a hospital bag (I had written out a list the night before). I kept receiving texts from my husband, like "what's a maxi dress?" My dad gave my husband a flask full of whiskey 😆
Meanwhile back at the hospital I was being monitored, lots of other women were coming and going, being told they needed to be induced but there weren't any beds so they were given appointments to come back. But they did not let me go, which made me realize that whatever was happening really was an emergency.
Finally around 3 PM my midwife arrived (husband arrived around 4), and she let me walk around a little bit. At 7 PM I got a bed and the midwife inserted the first tab of Cytotec (cervix softener). Almost immediately I started having low-grade, period-like cramps. From 7 PM onwards I was connected to the monitors nonstop, which was frustrating since I'd been basically connected to a bed since noon, and all I wanted was to move around to try to relieve the pain.
At 11 PM, the midwife inserted the second tab of Cytotec and immediately contractions started every 2 minutes. It was 0-60 right away. It was very immediate and hard to cope. Every time I tried to get out of bed and move around, a nurse would come rushing in to tell me they'd lost the baby's heartbeat and to reconnect the monitor.
I asked for nitrous oxide and that took the edge off for a little while—but since I was connected to the bed nonstop it was really hard to cope. So painful. The midwife gave me the 3rd round of Cytotec and checked me at around 3 AM and I was at 2 cm. She said that she thought I could have up to 16 hours more of intense contractions 😱 (1 more tab of Cytotec and then Pitocin), and I felt like I was just suffering with contractions back to back so I asked for the epidural. In the middle of all this my water broke, but I barely remember it.
The anesthesiologist who came was not able to put the epidural in. She told me I was too muscular (I am NOT), so she had to call a second doctor. I spent about an hour and a half crouched on the edge of the bed having intense contractions every 1.5-2 minutes. It was horrible.
Finally they got the epidural in and it was sweet, sweet relief. I fell asleep. 2 hours later the midwife came in and said the baby's heart rate was dropping. They put me on oxygen and turned me on my left side. Baby's heart rate kept dropping and they decided C-section would be safer route. A nurse said "I'll go prep the OR." I was so disappointed—I had gone in wanting a drug-free birth and here we were about to go to C-Section. The midwife checked me just to be sure and yelled out to the nurses' station "SHE'S AT 10!!!!" We could hear the nurses cheering from the hallway. Somehow I'd gone from 2 to 10 cm in 2 hours!
The midwife said, OK you've got to push this baby out right now. And I couldn't feel anything because of the epidural, so I was like… "can we just wait a little while?" the midwife was like "Uh, NO. You have to push. Now."
Then a whole crew of doctors and nurses came rushing in, the room was like a clown car. The midwife grabbed one leg and my husband grabbed the other and I started trying to push. Couldn't feel anything at all, so I had no idea if what I was doing was working. The doctors tried to use a vacuum but the machine wouldn't turn on. In retrospect it was like a bad comedy. So someone brought in some forceps, and they gave me an episiotomy and pulled the baby out with forceps while I pushed. Later I found out that the Dr who delivered went to medical school in a country with fewer resources so they are better trained to use forceps, rather than immediately going the surgical route. How ironic—but I am very thankful for that.
They moved my son straight to a table to have him checked out and my husband got to see him, and then hold him. Meanwhile a resident started stitching me up (don't remember how the placenta came out) and somehow THAT'S when the epidural stopped working. I could feel every damn stitch. I remember just begging to see the baby and all I wanted was someone else with more experience to finish stitching! So the doctor who had delivered my son finished the stitching—she did a great job.
My son Sandro was 5 lbs, 5 oz, he was just itty-bitty and so precious. There were some concerns about his blood sugar levels but ultimately we were able to avoid the NICU and went home after two nights spent in the hospital. Recovery was terrible, I was afraid to poop for a week! (Pro tip half a glass of wine 🍷 will do the trick). But Sandro nursed like a champ (in fact we kept nursing until he was 19 months and I was 4-5 months prego with #2!) and the adjustment to being a family was very smooth.
In all, my labor was 10 hours, 35 minutes. But from first "real" contraction just 6 hrs, and from 2-10 cm in 2 hours.
2 years later, he is the absolute cutest, and now the countdown is on for his little brother or sister whose due date is this Monday! Wish me luck!
My husband with the flask my dad gave him
While I was being stitched up...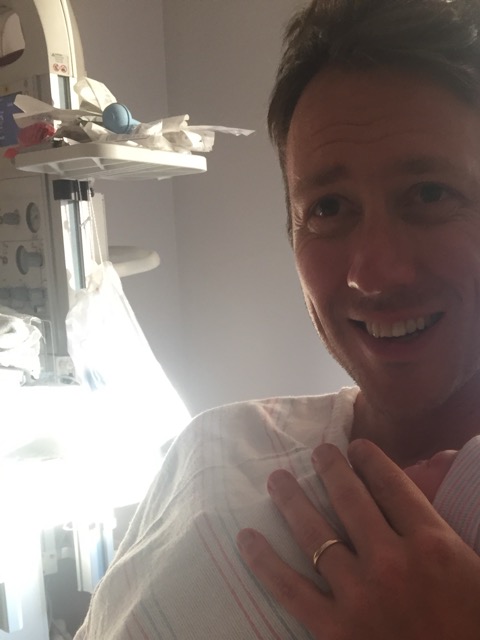 Finally got to hold him!
His little face you can see the battle wounds from the forceps
He was so small!
Also so precious!
Sandro when he was almost 2