Birth story-twins born at 34 weeks
So its been a few days, and I am ready to tell my story.
I started having pre-eclampsia symptoms at 30 weeks. At 31 weeks, I spent two days in l&d; to get my pressure down. At 33 weeks, not only was my blood pressure not cooperating, but baby B was no longer growing. I was admitted to l&d; to try to extend our time to 34 weeks.
After speaking with MFM, and my OB, it was decided that a csection was my best choice and that on 34 weeks exactly, we would be delivering. The night before, my BP went up and would not come down. Instead of the relaxing night I had hoped for, it was blood pressure checks every 10 minutes, and more meds.
The next morning, they set me up and got me ready for the section. The spinal was super unpleasant but now I barely really remember it. My husband came in, and we got ready to go.
10 mins later, Harrison was out, his sister followed 3 minutes later. He cried, and was doing great. Charlotte let out the tiniest whimper and didn't cry. I was laying on this table, unable to see my babies and just waiting. Eventually, my husband told me that they were doing ok, and they let me see them. Harrison was 4 pounds 11 ounces and Charlotte was 3 pounds 6 ounces. Then they went off to the nicu and I went to recovery.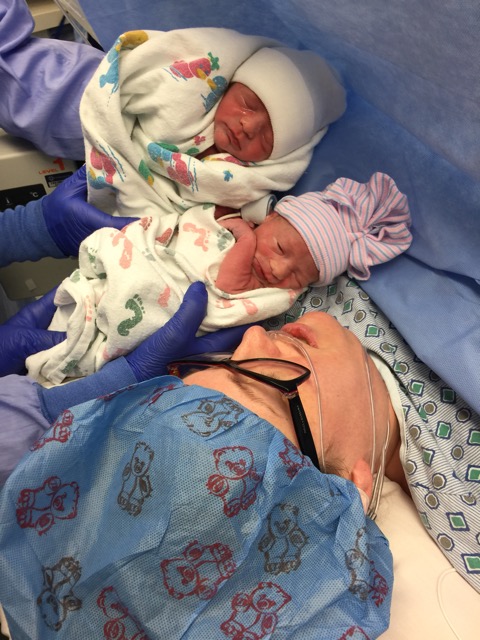 6 days later and we are all doing great. Because of the doses of steroids, the babies are 100% independently breathing, they are breast feeding, and they are working on gaining weight. We don't have a discharge date, but I am so happy they are here and safe. I have never been so in love.