My induction story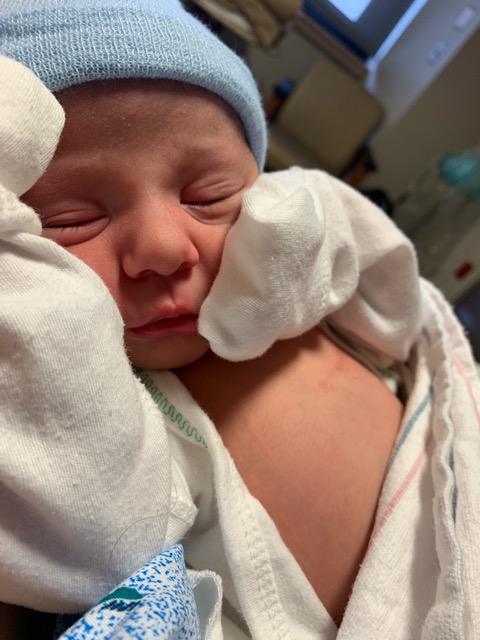 FTM and my little man is finally here! He was due Sunday, 8/11. My doctor scheduled my induction for Wednesday, 8/14 at 7 pm, due to predicted large birth weight.
We arrived at the hospital at 7 when the immediately administered Cytotec. Going into induction I was 1 cm dilated but high and hard.
The next morning I was 2 cm dilated at 8 am when they checked me, 60% effaced. My doctor made the decision to break my waters and start pitocin. By 8:30 am that process had begun. They increased my pitocin every half hour.
I decided at 11:30 am to ask for an epidural as I was already having contractions but they were far more manageable than I heard pitocin contractions to be. Good thing because my
Epidural failed and only numbed my toes. For the entire day. No matter how many times it was attempted to be fixed.
Around 3 I was still only 6 cm dilated but my doctor said the last 5 are much faster than the first five so I was hopeful. After numerous checks, I was still only 7-8 at 8 pm. My doctor said he expected the baby to be here by 11 pm Thursday at that point.
At 10 he checked again, no progress. Throughout the day the baby's heartbeat had dipped on a few occasions but when I changed position it came back up so they weren't concerned. When it continued to do so no matter what we did around 10 pm, my doctor began to be concerned. He said if there was still no progress by 11 we would discuss a c-section.
11 came, no progress, baby's heart rate still was dipping so it was decided to do a c-section.
By midnight I was in the OR, but they could not get my body numb. Finally, after many different drugs and injections, I was numb and they began.
Turns out my baby's cord was wrapped around his neck, causing him to not be able to move down and of course, his heart rate to drop.
At 12:30 am, after nearly 30 full hours, my baby boy was born. He is healthy as can be and it was worth it all!
Good luck to the rest of us August mamas waiting on their babies to come!