OKAY SO I MET MY CELEB CRUSH
I MET IAN SOMERHALDER AND IT WAS THE BEST DAY OF MY LIFE.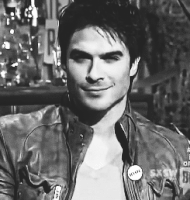 So I live in Saudi Arabia, and Ian was invited as a guest to Comic Con. I got a meet and greet ticket, waited for 5 hours (and it was soo worth it) before finally meeting him. HE IS THE NICEST PERSON EVER. We had a brief conversation about his trip and how much he loved Arabic coffee, then he said : "Let's take a photo, beautiful" AND AT THIS POINT I WAS TRYING NOT TO PASS OUT.
He then turned to me and said : "Thank you for having me, have a lovely night." And did a little damon smirk. I HAVE NO WORDS. 😩❤️