Homeowning the S#!t Out this Place!
Y'all, I lived on my own, renting, couch surfing, or living with roommates from 17 to just before my 22nd birthday when my husband and I closed on our home. And we are SO damn proud of it 💪🏻 Great, safe neighborhood with great public schools and close proximity to basically everything in Memphis without being actually in the city and not the suburbs.
Anyways.... we're super proud, so we make it a point to do home improvement projects when we have the time and money. Today, we did our front yard!
Here it is before:
The giant, overgrown rose bushes around the broken mailbox:
And here it is after: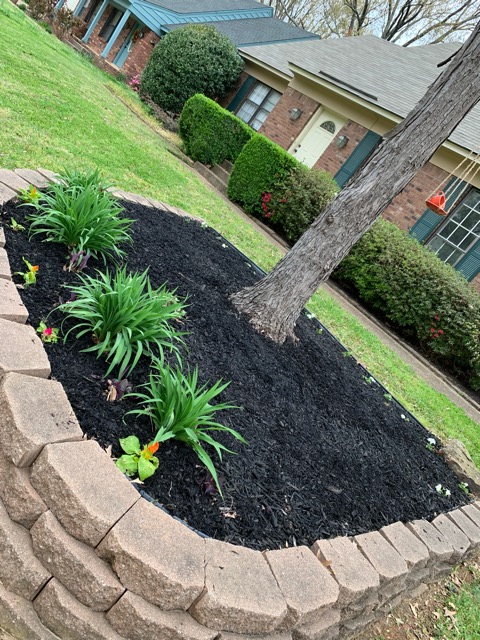 We still have to put up the mailbox and stain the wood, but I'm customizing a personal touch on the mailbox by hand-cutting a design into the y-bracket.
The beds combined also have 60 flower bulbs including Stargazer Lily, Casa Blanca Lily, and Iris bulbs. It is going to be STUNNING come summer when our other azaleas, day lilies, Purple Hearts, and this big bushy, pink-flowering, lemony-smelling bush bloom. I'm just in love.
You don't have to have a move in ready home with all matching furniture, paint, and landscaping. Sometimes it's just a slow and steady progress turning a house into a home. But for us, that is perfect. It suits us as a family and our lifestyles perfectly. Just adjusting and making things ours where we can, when we can, and how we like it. Doing all that work, hands on, as a team. My husband and I were out here in the garden from 11am to 7pm today! Teamwork for the win!
Anyways, hope y'all like it. I'd love to see pictures of your curb appeal! Or give me ideas on shutter and door colors without changing the color of my siding or brick (we just don't have that money right now. Or any other suggestions on adding to the curb appeal?