Baby born on her due date!
So this is my birth story my little girl was born early this morning at 12:26 AM on her due date, Thanksgiving!
I planned on having an all natural birth at a free standing birth center with midwives.
I went to my appointment on Tuesday morning and was having some low back pain that was off and on but didn't think anything of it. I got my cervix checked and I was 1 cm dilated and 50% effaced. I didn't think my baby was coming anytime soon because people can be slightly dilated weeks before delivery.
My back pain continued through out the day Tuesday and I didn't feel all that great Tuesday night and was having some contractions but I thought it was just Braxton Hicks that started around 9pm. There was a big storm with record low pressure and I heard that the low pressure can trigger labor. My whole pregnancy I thought it would be so awesome to deliver my baby in a storm since she was going to be a winter baby.
Anyway around 12am it was storming like crazy and my contractions really started to pick up that's when I realized I might actually be going into labor. My contractions stayed strong and consistent throughout the night and morning. Around 630 am I leaked some fluid and I'm pretty sure my water was breaking. I checked in with my midwife about a hour later and she said to just wait and see how my contractions progressed. About an hour after that I called back again because my contractions were really picking up.
we arrived at the birth center around 1030am and I was already 4 cm dilated. I was stoked because I was worried I might progress slowly. My active labor went pretty smoothly I just breathed and sounded through my contractions. By 430 pm I was 9 cm nd able to get in the birthing tub and then fully dilated and I was able to start pushing. The water felt so good and I was so excited to finally push and thought I would be meeting my baby girl within the next couple hours. Since early labor and transition went so smoothly for me I realized the pushing phase was about to be extremely difficult or go the same way as early labor.
I started pushing in the water because I wanted to have a water birth but my pushing wasn't that effective so I had to get out. I tried so many different positions on my hands and knees, on my back with my legs in the air, squatting. Nothing was helping get my baby girl out. I ended up pushing there for 4 almost 5 hours and I was exhausted ! My midwives said I could keep trying or we could transfer to the hospital. I really did NOT want to go to the hospital.
In the end that's exactly what we decided to do :( so I didn't get to have my all natural birth that I hoped for.
Around 930 pm we headed over to the hospital the whole time I was having intense contractions with the urge to push as we headed over when I got there my contractions slowed down a lot and I was actually able to sleep between some of them and I was super exhausted from being up and in labor for about 24 hours at this point. Once we got to the hospital I had to be started on Pitocin but it took them about a hour to get my IV in. Once the pitocin started to kick in and the doctor showed up it was about 1130 pm. At first I declined pain medicine but at that point I was so sore and exhausted from pushing for about 8 hours and being in labor for 24 so I decided to have the fentanyl that the offered me.
I pushed and pushed like crazy but I'm eventually the doctor had to get the vacuum extractor to help get my baby's head into a better position. Her head was sideways and it wasn't turning so it was making the labor so much more difficult. Finally her head was crowning and I could feel everything stretching down there I can only imagine what it would have felt like if I didn't have the pain medicine in the end. I was really determined to have an all natural birth but I was glad I had the option to transfer to the hospital and did what I needed to do to deliver my baby. She was born strong and healthy with an apgar score of 9. I was having a lot of bleeding after delivery and my uterus wasn't contracting the way it was supposed to be so I had to have more pitocin through out the night.
It was all worth it and I would do it 100 times when I finally got to meet my baby girl.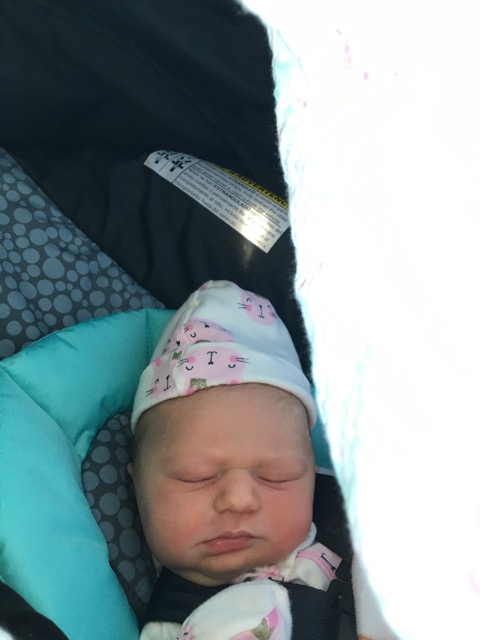 Terra Artemis. 8 lbs 6 oz. 22in.
Born Thanksgiving at 12:26 am.