Help!!! Don't know what to think
So I got these tests. After taking the test on the 18th with FMU I started having light pink/brown blood only when I wiped so I put on a pad. Throughout the day when I wiped I had brown blood rather then pink but only when I wiped. By the end of the day I had more reddish blood. I took another test today using FMU and the second line came out darker then the other 2 days, but I'm still bleeding. In fact a lil more and I'm having light cramps. So I went to urgent care to make sure I'm not having a miscarriage and they didn't even wanna see me for pregnancy said they couldn't give me an ultrasound but I said I just want a blood test to be sure I'm not miscarrying. But once I got to the back they only gave me a urine test and the doc told me it's negative I can go home now. Do I take another home pregnancy test or make an appointment go to my regular doc!? Or should I just take it as a false positive. Any advice/opinions would help. Thanks in advance.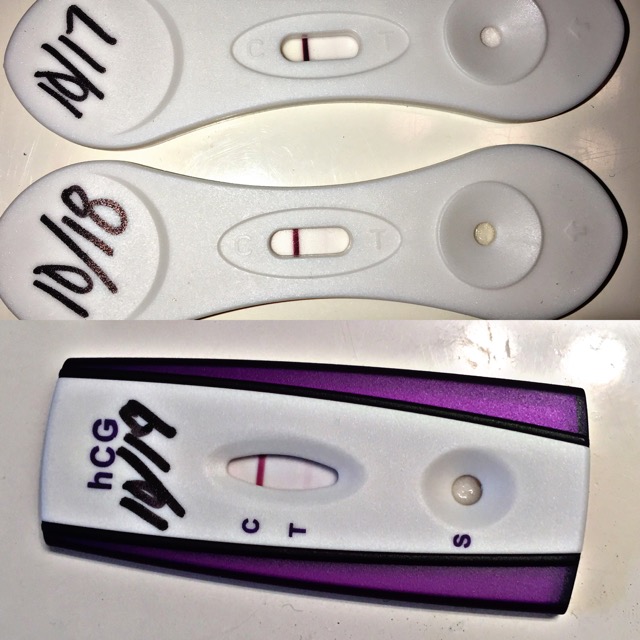 UPDATE #3....SO FAR TODAY IS THE 21ST AND I TOOK ANOTHER TEST. TODAY IS DAY 4 OF BLEEDING, WHICH HAS LIGHTENED A BIT, TO ME AND LOOK 😃 STILL PREGNANT. MY NEXT APT. IS THURSDAY THE 26TH@2:00PM. HOPING HCG LEVELS HAVE RISEN FROM 28mlu/ml AND MEANS I JUST BECAME PREGNANT RATHER THEN MISCARRIAGE 🤞🙏 I REALLY WANT THIS BABY HOPE BABY CORTEZ STICKS TO MOMMY. iVE BEEN DOING ALOT OF RESTING IN CASE THATLL HELP BABY STICK.
FINAL UPDATE: just got the results of my second blood test my hcg dropped to 13 so looks like I'm having a miscarriage 😔😪