I love being a new mom 💙
Im 19 years old and this is my 2nd pregnancy but first child. I was due February 12th but had him Janurary 30th.This whole pregnancy has been sooo tough on me from constantly being nauseous, and throwing up to fainting in public places. I had really bad heartburn and acid reflux while pregnant. I went in at 36 weeks 4 days for my ultrasound and they told me my placenta was maturing and that the baby was weighing 4lbs 1oz and he should have been at least 6lbs at this point.
They refer me to a high risk dr that I went and seen that following tuesday. They gave me an ultrasound and looked through his organs and anatomy about 5 times, which they assured me my placenta was fine and giving the baby nutrients. He was weighing 4lbs 10oz and i got some cute pictures of him that day 😊💞
When the dr gave me my ultrasounds he told me all his anatomy and organs were mature so he told me that my obgyn should schedule my induction for 7-9 days... Me im sitting there looking at him like
I go in to my ob on Janurary 29th im 38 weeks and we do my regular non stress test and she says she wants to check my cervix ... let me tell you ive NEVER had my cervix checked ... everrrr. I looked at my ob all bothered and uncomfortable like 😂😭😂😭 she says im 2cm dialated and 80% effaced... She scraped ny membranes and after that my body didnt feel the same 😩😩😩 She says okay well were gonna schedule you induction for this week...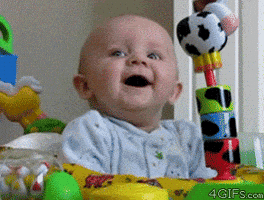 I was TERRIFIED, she goes out and comes back in and tells me the only day that was open was TOMORROW @ 8. I felt like I had shit myself 😂😂😂😂 my room wasnt ready so when I got home I started rearranging my room setting all of babies stuff up lol. I could not get any sleep that night bc i started spotting so i figured i was in labor a little. I got up at 7 took a shower started locating all my belongings i needed. I was an hour late to my induction yall 😩😂 i got there at 9 I went to the bathroom bc i kept feeling wet so I thought i was bleeding. It was my mucus plug 😷😷 it was horrible omg, i get to the delivery room and i take a shower its like 930 and I feel this pressure build up in my stomach and I can see the side od my stomach buldging... then 2 seconds lated a big gush of water from inbetween my legs. I was confused bc I was in the shower but it was definitely my water breaking 😂😂😂 my baby was ready to come on his own lol. I am SO glad they didnt have to manually break my water. Okay so after this point contractions are horrrribleeeee!!! im screaming crying because I was in so much pain. I was screaming for the Epidural !! they gave me the epidural at 11:15, and after that point i didnt feel anything except pressure in my lower back but that didnt hurt. Babys heart rate was dropping so they made me lay on multiple sides and then had me get on all fours in front of my mom and grandma 😂😂😂😂 They gave me an oxygen mask bc i was hyperventilating, they had to vacuum assit baby out but by 12:27 p.m Little baby Sawyer was born 💙 5lbs 3oz 19 inches long
This is dad while i was in labor 😂
This is us after, i was exhausted !!!
daddy was exhausted from what????
daddy cutting umbilical cord.
hes 2 weeks as of yesterday 💙 I love being a new mom its literally the best thing ever ! Hes so good to me lets me sleep a couple hours at a time, he only cries when hes hungry, when hes getting a diaper change and a bath... Hes awesome!!