July 17 baby born July 10, meet Anna Elise!
After reading hundreds of these stories while pregnant, I'm so excited to finally share our very smooth induction story!
This was my second pregnancy and also a successful <a href="https://glowing.com/glow-fertility-program">IUI</a> conception due to pcos. Anna is our rainbow baby after losing our first baby 6 weeks into the pregnancy. I have a 10 year old son, so pregnancy felt brand new to me again!
We had a textbook pregnancy throughout. Our baby girl had no medical concerns and always looked great on her ultrasounds, I gained 30 pounds and had no swelling and my overall biggest complaint was raging heartburn and frequent peeing! The heartburn did pay off though, our princess has so much hair!
We worked with a midwife from our local obgyn clinic and loved the care she provided! She agreed to a 39 week induction due to Anna measuring 7'11" at a 38 week ultrasound and also because I was dilated to nearly a 4 by 38 weeks.
We went in at 745am on Tuesday 7-10. My first moment of happy tears was when I realized we were checked into room 328 where my son was born 10 years prior, also on a Tuesday.
IV was started and pitocin drip began at 830. My midwife planned to run the antibiotics for 3 rounds before breaking my water as I was group b positive. She told me to get an epidural when I needed it and she would break my water around 1.
The epidural. Omg that is no joke. I had back labor beginning and wasn't going to even deal with it, so by 11 I had the nurse order the epidural and that by far was the most painful of my experience BUT so incredibly worth it as I felt nothing in just minutes after it was in. I did have a side effect of my bp dropping and causing nausea, but it subsided with a nausea med.
My water was broke around 1 and I was at a 5 fully thinned out. I took a nap and woke up around 1:30. I spent time with my son, husband and friend who was our birth photographer and felt great. We talked about sending her home as a 5 was far from a 10. Around 2 I had what felt like period cramps and my nurse noticed baby wasn't showing in the monitor. She put oxygen on me (scary!) and said she needed to check me- I was a 10 with "a lip" so my midwife was called. This brought on the shakes that come with high intensity and fear, I also had them with my son just before pushing. My midwife arrived and I told her I just wasn't quite ready to push and I wanted to feel the pressure in my bottom before I started. I naturally started deep breathing and could feel her drop to give me that "I need to poop" feeling, so we began pushing. I felt nothing at all but some pressure, so I relied on the nurses to say when to push in 10second increments 3 times per contraction. I pushed for 20-30 minutes and at 3:17pm (remember my son being born in this room on a Tuesday- he was born at 3:14pm!) she was here!
I requested immediate skin to skin and it was absolutely perfect. She laid on my chest for 45 minutes or so as they cleaned me up. I had a slight tear that required stitching but 5 days later I've felt little to no pain from them, lucky, I know!
Anna weighed 8lb 8oz and was 21in long. She is absolutely perfect and we are head over heels in love!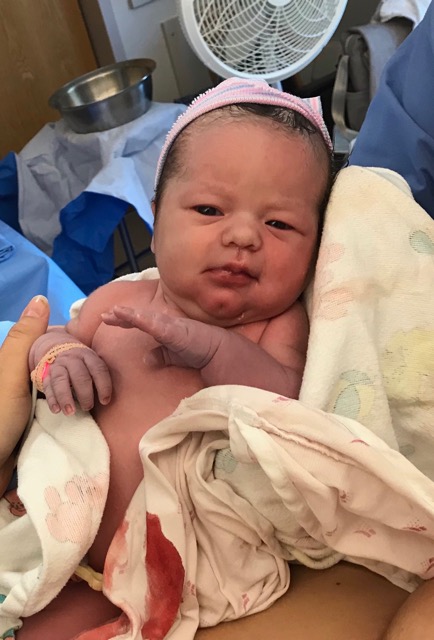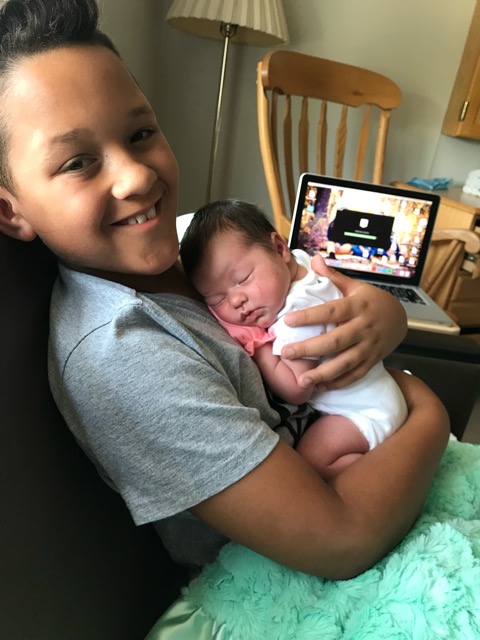 ❤️❤️❤️❤️