Finally ladies
it's finally my turn to start planning.... officially for my dream wedding. This weekend started as any other I worked Saturday morning and took the rest of the weekend off. Saturday night we went to the Milwaukee brewers game. We live in Wisconsin. The brewers game was great they won so it was even that much better. Sunday we went to Door county. And if you've ever been there or live in Wisconsin you know it definitely stands up to all the Hype. It's beautiful there year round. We didn't really have anything in particular planned except lunch and dinner. Well we only had lunch. We went to Cana Island which was beautiful. You can walk there through the water or take a ride on a trailer pulled by a tractor. We climbed 97 steps up a gorgeous spiral staircase to the top. The lighthouse is 140 years old and still in use and it over looks lake Michigan. After walking around the island we went back and had lunch at this little diner we went to last year. Then walked around Sturgeon Bay by the water. We walked down a pier and watched a gentleman fish for awhile watched the boats and the water admit was beautiful out so it was perfect. We started walking back down the pier and he stopped about halfway back and asked for a kiss, he kept asking for one more, one more, one more then he got down on one knee and I instantly started crying like a baby. but it was perfect. I was we had someone to capture the moment. but I'll remember and cherish the moment forever. I've attached some pictures from this weekend.
Brewers game Saturday night.
Cana Island Lighthouse.
The top of Cana Island lighthouse with my man (before the proposal)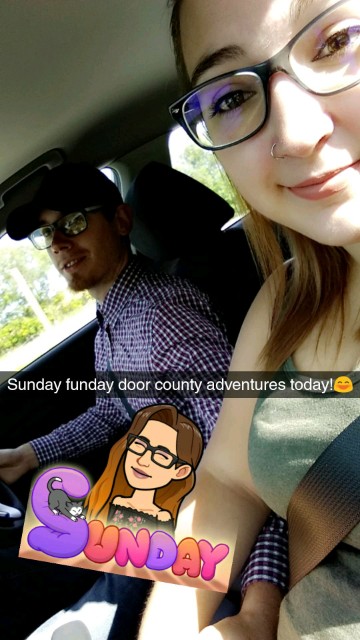 on our way to door county
the end of the pier
this morning. d9nt mind how horrible I look it's Monday morning and I'm working now. 😴
my ring. I absolutely love it.