Positive BFP but light lines!
This past Sunday, I found out I'm pregnant! My hubby and I have been trying for almost a year. Each month the tests would come back negative, I would get so sad. Then I found out I had Endometriosis in August. Had to have a Laparoscopy done and the Endometriosis was literally EVERYWHERE! After I got it removed, Doctor said that we can start trying as soon as I stop bleeding. I bled for almost a month afterwards:
The 24th to the 11th and then we did the baby dance September 17th.
On this app, it says that I was 4 days late for my period this past Sunday so I took a test, thinking it's going to come back negative and I stepped away for not even a minute and walked back and gasped so loud when I saw a second line trying to come up! I ran to my husband and was so excited!! After so long, we've finally got our BFP. I took another one, just to make sure and it also started coming up!
That same day, I noticed that when I wipe, I had slightly pink spotting so I called the emergency Dr's number and he told me to go in yesterday. They did an ultrasound but I know that I conceived September 17th so I'm only 15 days technically, and of course there was nothing. They did find a fibroid on top of my uterus and the doctor says it won't affect the baby. So my doctor tells me it might be implantation bleeding and to get a blood test yesterday and Wednesday to check my HCG and progesterone levels.
I've still been taking pregnancy tests but now I'm getting worried because the line seems to be getting lighter. Here are the pictures of my pregnancy tests:
This is the second day PM: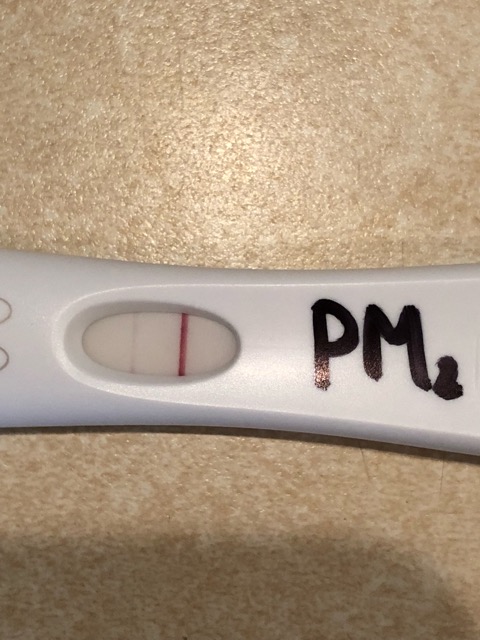 And this is from this morning:
I did drink a whole lot of water before I went to sleep.
I've been getting symptoms as well. I've been nauseous to foods and to smells that usually don't bother me and I've been gagging. I have slight cramping and my breasts are definitely bigger. I've also been having to frequent the bathroom for both things. Feeling very tired and fatigued. The bleeding has turned to a brown color, very little of it and only when I wipe sometimes.
Hubby is telling me to stop testing since I'm stressing out over the line and says to just focus on being calm for the baby.
Just praying this little bean sticks!