Life at Glow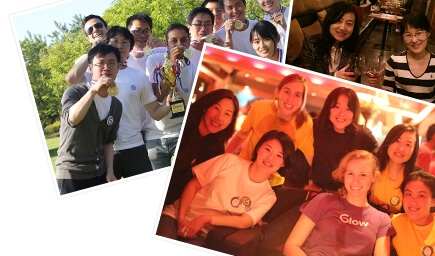 What we do
Glow empowers women with information about their bodies and shines a light on the science of womanhood. We use machine learning and algorithms to convert that knowledge into highly accurate and personalized information for each woman across all of our apps. We've also created a thriving Community in which women across all stages in life, all over the world, support and learn from each other about every topic imaginable.
Why we believe in it
We aspire to bring a new face, new data, and new solutions to broken systems in the $2.5 trillion healthcare industry. Our goal is to enable people to manage their health in a whole new way. We've got a great team and are looking to add awesome partners. If you aren't afraid of big problems and uncharted waters, then we want to talk to you.
Who you'll be working with
We don't believe in hierarchy or entitlement. If you come work with us, you'll have a lot of fun, but you will have to prove yourself. We're young, hungry entrepreneurs and this job will be largely what you make it. You'll have the chance to work with incredible tech industry veterans and investors and with really smart and driven colleagues. Finally, you'll have the technology & support that you need to be successful.
Current openings
Sr Product Manager - Enterprise Product ⋅ San Francisco We're looking for a Sr Product Manager to lead Glow's Enterprise product suite. Glow provides the leading consumer fertility treatment offering in the US. By taking a patient-first approach and by recognizing that most people do not have the benefit of fertility treatment coverage, Glow is providing the better, more affordable fertility treatment experience that everyone deserves. Read more »
Fertility Coach (Patient Specialist) ⋅ San Francisco The Glow Fertility Program is the leading consumer fertility treatment offering in the US. Glow Fertility Coaches respond to inquiries from consumers and patients who are considering fertility treatments. A Glow Fertility Coach empathizes with and helps women and couples struggling with decisions about their fertility. Read more »
Marketing, Senior Manager/Associate Director ⋅ San Francisco You'll have the opportunity to shape Glow's voice, and you'll have the responsibility to use that voice to drive growth of the Glow Fertility Program and brand awareness across all marketing channels. Read more »
Product Analyst ⋅ Shanghai Data is key to our success as a company. As Product Analyst at Glow, you will help the company to drive actionable insights into user behavior, product usability, and feature performances. Read more »
Customer Experience Specialist ⋅ San Francisco ⋅ Shanghai Our team manages online support and advocates for product improvements on behalf of our customers. We are looking for a rockstar problem-solver with a proactive attitude, excellent communication skills, and of course, tons of enthusiasm for Eve and Glow. Read more »
Apply
If the above sounds like you, send us a note at jobs@glowing.com. We can't wait to hear from you!