Life at Glow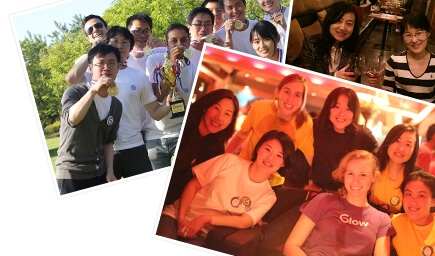 What we do
Glow empowers women with information about their bodies and shines a light on the science of womanhood. We use machine learning and algorithms to convert that knowledge into highly accurate and personalized information for each woman across all of our apps. We've also created a thriving Community in which women across all stages in life, all over the world, support and learn from each other about every topic imaginable.
Why we believe in it
We aspire to bring a new face, new data, and new solutions to broken systems in the $2.5 trillion healthcare industry. Our goal is to enable people to manage their health in a whole new way. We've got a great team and are looking to add awesome partners. If you aren't afraid of big problems and uncharted waters, then we want to talk to you.
Who you'll be working with
We don't believe in hierarchy or entitlement. If you come work with us, you'll have a lot of fun, but you will have to prove yourself. We're young, hungry entrepreneurs and this job will be largely what you make it. You'll have the chance to work with incredible tech industry veterans and investors and with really smart and driven colleagues. Finally, you'll have the technology & support that you need to be successful.
Current openings
Growth Marketing Manager, ⋅ San Francisco Growth Marketing Manager candidates should have a deep passion for marketing and for Glow's goal to become the most beloved women's health platform. You'll have the opportunity to help shape Glow's voice, and you'll have the responsibility to use that voice to drive user growth and brand awareness across all marketing channels. Read more »
Event & Community Marketing Manager, ⋅ San Francisco It will be the job of the Event and Community Marketing Manager to create programs that show our Glow Community that it is possible to unlock their dreams of becoming parents. This Marketing Manager will lead our growing Glow Fertility Program events series, both in person and online. Read more »
Graphic Design Intern ⋅ San Francisco We are looking for a graphic design intern to join our team. Design shapes all of our communications, helping us motivate women of all ages to take control of their health. Read more »
Customer Experience Specialist, Eve and Glow ⋅ San Francisco ⋅ Shanghai Our team manages online support and advocates for product improvements on behalf of our customers. We are looking for a rockstar problem-solver with a proactive attitude, excellent communication skills, and of course, tons of enthusiasm for Eve and Glow. Read more »
Product Manager ⋅ Shanghai We're looking for a Product Manager to lead our product team. You will have to be able to think strategically and execute tactically. You'll be challenged and supported by some of the best designers and technologists in the world. Read more »
Product Designer ⋅ San Francisco ⋅ Shanghai As a Product Designer at Glow, you have a rare opportunity to create something very functional and emotional. Bridging the gap of technology and humanity. Read more »
Apply
If the above sounds like you, send us a note at jobs@glowing.com. We can't wait to hear from you!