Life at Glow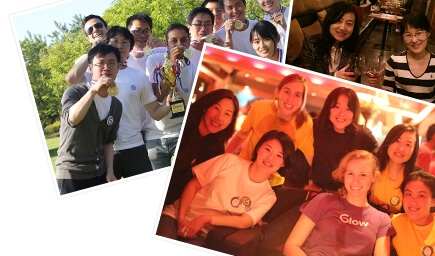 What we do
Glow empowers women with information about their bodies and shines a light on the science of womanhood. We use machine learning and algorithms to convert that knowledge into highly accurate and personalized information for each woman across all of our apps. We've also created a thriving Community in which women across all stages in life, all over the world, support and learn from each other about every topic imaginable.
Why we believe in it
We aspire to bring a new face, new data, and new solutions to broken systems in the $2.5 trillion healthcare industry. Our goal is to enable people to manage their health in a whole new way. We've got a great team and are looking to add awesome partners. If you aren't afraid of big problems and uncharted waters, then we want to talk to you.
Who you'll be working with
We don't believe in hierarchy or entitlement. If you come work with us, you'll have a lot of fun, but you will have to prove yourself. We're young, hungry entrepreneurs and this job will be largely what you make it. You'll have the chance to work with incredible tech industry veterans and investors and with really smart and driven colleagues. Finally, you'll have the technology & support that you need to be successful.
Current openings
Account Executive, Women's Lifestyle ⋅ Remote We're searching for our next hunter. We're looking for a teammate who can wrangle the women's lifestyle & parenting consumer niches. Many of our partners fall into the health & wellness category supporting women along their life stage journey whether it's tracking their health, trying to conceive, keeping up to date with their pregnancy, or navigating motherhood and newborn life for the first time. Read more »
Apply
If the above sounds like you, send us a note at jobs@glowing.com. We can't wait to hear from you!